And it starts with Notepad++, because it's lightweight, awesome, sexy, and did I mention awesome.  I am a bit of a fan of Textmate on the Mac – using a combination of the font Monaco (which you'll need to source for yourself) and the VibrantInk theme created by Tyler at impoverishedgourmet.com – you too can have a nice dark scheme for your coding box.
Next up will be finding a similar solution for Netbeans.
In order to install this theme, simply go place the file into %APPDATA%\Notepad++ replacing the existing theme (I like to make backups of this shit in case I ever start to hate the contrast).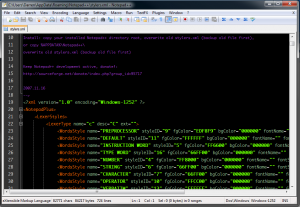 https://www.darrennolan.com/wp-content/uploads/2010/05/stykers.xml
Font is then changed in Notepad++ by going to Settings -> Style Configurator, ensure you have Global Styles (Global override) selected, and change the font to Monaco.